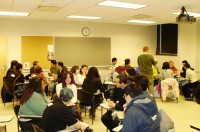 Date/Time
27 Aug 2016 until 1 Oct 2016
10:00 am - 12:00 pm
Map Unavailable
The IFI English Conversation Club meets on Saturday mornings from 10:00 am – 12:00 noon for the first 6 weeks of the semester starting August 27th, 2016.  This informal club emphasizes conversational English practice. Each week a different aspect of American culture will be discussed: making friends, family life, sports, humor, and holidays using both large & small group activities.  Americans facilitate each small group.  Meet lots of new people and develop new friendships.
Registration will begin on Wednesday, August 17th.  There is a nomimal charge of $12 for the entire semester
These sessions are for OSU international students, visiting scholars, or their spouses who have at least an intermediate level of proficiency in English. The class level will be high intermediate.
The English Conversation Club is over for the semester and will start up again at the beginning of next semester. This registration form will be active starting Satruday, January 1st for the Spring 2022 semester.
However, there currently is an special "English Conversation Club on Bible Topics" if you are interested. You can get more information and sign up at: